Summer Games Opens Volunteer Registration
Feb 20, 2020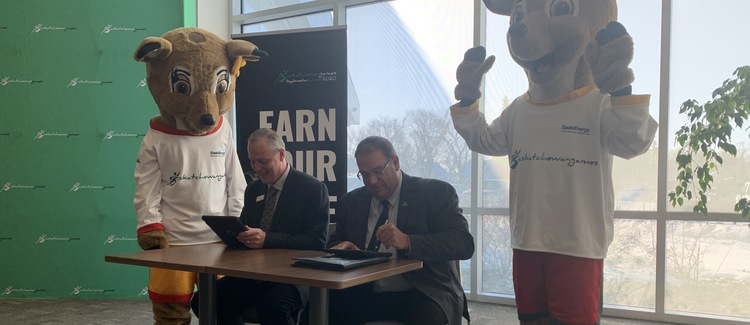 LLOYDMINSTER, SK (February 20, 2020) – Lloydminster and area residents who want to show their support as a volunteer at the 2020 Saskatchewan Summer Games can now register at skg2020.gems.pro.
The 2020 Saskatchewan Summer Games Host Society and community leaders came together at Synergy Centre– home of Synergy Credit Union, the Games' volunteer sponsor–to officially launch the volunteer drive.
"Volunteers are integral to the success of any major event. Based on the number of regional and provincial sporting events we have hosted in Lloydminster, I am certain the calibre of volunteers at the 2020 Saskatchewan Summer Games will be exemplary," said Wendy Plandowski, Volunteer Chair. "I encourage all residents who are interested in volunteering to reach out and help make these Games a memorable experience for everyone involved."
Throughout the week of July 26 to Aug. 1, the 2020 Saskatchewan Summer Games Host Society will need approximately 1,200 volunteers of all ages from across Lloydminster and surrounding communities. These volunteers will help greet the athletes, scorekeeping, assist with medical needs, manage logistics, sell merchandise, tickets, and more.
City of Lloydminster Mayor Gerald Aalbers and Synergy Credit Union's CEO, Glenn Stang, were the first to officially register as Games volunteers.
"This summer, we'll proudly welcome athletes, coaches, visitors, family and friends to the 2020 Saskatchewan Summer Games," said Mayor Aalbers. "Volunteers are a crucial part of this cohort, and we are excited to show our beautiful border city to these guests."
Next to the athletes, the volunteer force will be the most visible and recognizable group at the event. The Games will welcome approximately 2,000 athletes from across the province, competing in 14 sports.
For more information about the Summer Games and to register, visit saskgames.ca.
###
For media inquiries, please contact:
Eric Healey
Chair, Media Relations
2020 Saskatchewan Summer Games Host Society
Phone: 306.307.8483
Email: ehealey@lloydminster.ca