Friends of the Games Nicole Clow and Sheila Hryniuk Honoured at U of R Distinguished Alumni Awards
Apr 25, 2018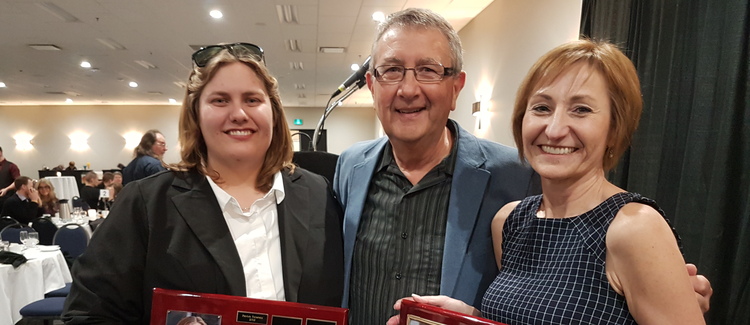 Earlier this month, two friends of the Saskatchewan Games were honoured at the University of Regina Kinesiology & Health Studies Distinguished Alumni Awards.
Nicole Clow (L) was recipient of the Recent Distinguished Alumni Award. She recently wrapped up another successful Games, acting as Games Manager for the 2018 Saskatchewan Winter Games in North Battleford (and prior to that, the 2016 Saskatchewan Summer Games in Estevan).
Nicole's Games experience has run the gamut: she competed as an athlete in 2004, volunteered as coach in 2008, later came onboard as an intern with the Saskatchewan Games Council, and was Chef de Mission for Team South East
in 2012 and 2014!
Sheila Hryniuk (R) was recipient of the Distinguished Alumni Award. Sheila has been Executive Director of Parkland Valley Sport, Culture and Recreation District
since 2007, and has attended the Saskatchewan Games as mission staff for Team Parkland Valley. Not only that -- Sheila was Games Manager for the 2000 Saskatchewan Summer Games in Yorkton.
Congratulations to both of these well-deserving women, not only for their contributions to the Saskatchewan Games but for their commitments to building sport and community in Saskatchewan!