DAY 4 AT THE 2023 SASKATCHEWAN WINTER GAMES IN REGINA, PRESENTED BY TEINE ENERGY
Feb 23, 2023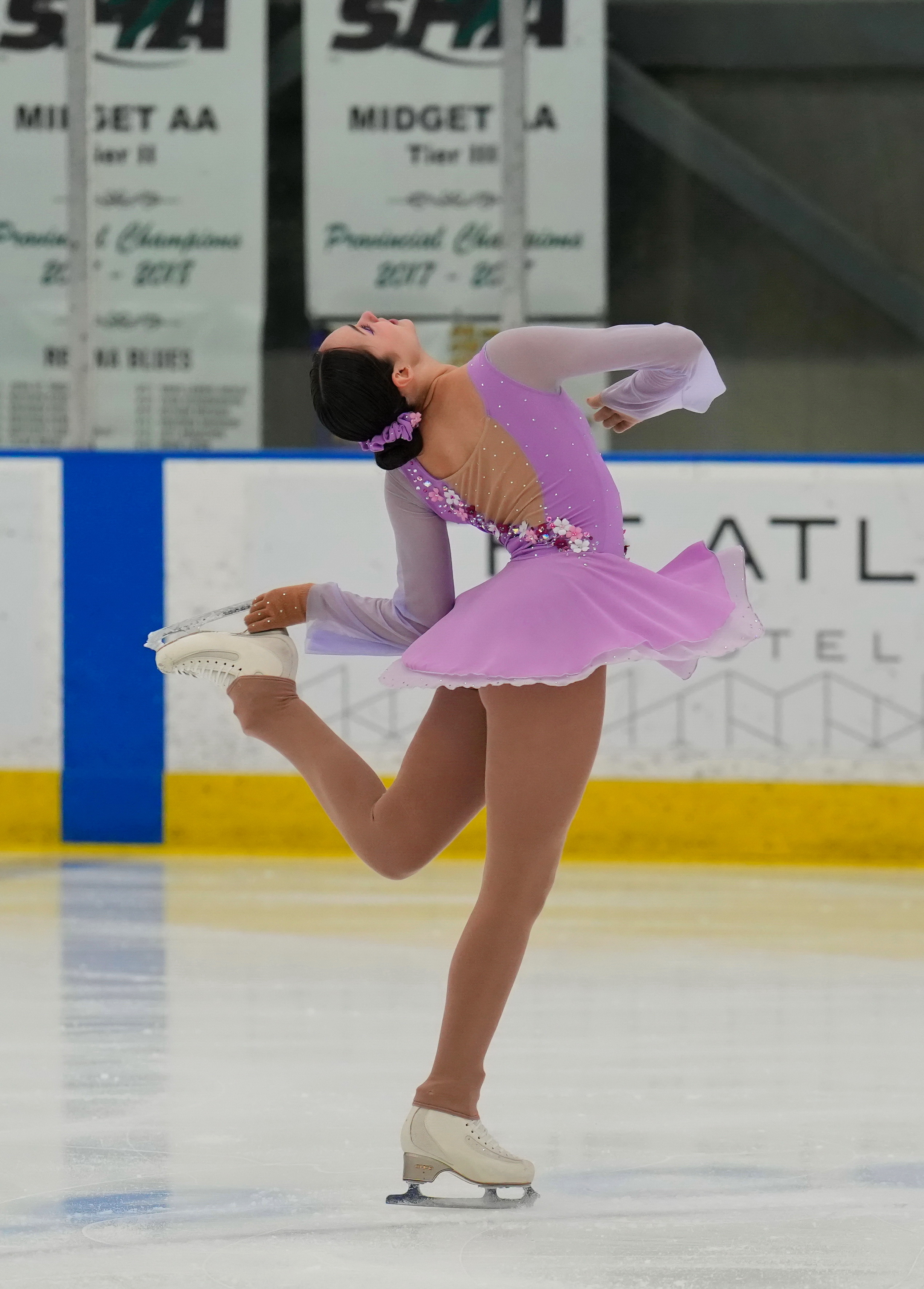 REGINA, SK (February 23, 2023): Phase two of the 2023 Saskatchewan Winter Games got underway on Thursday with competition kicking off in Futsal, Target Shooting, Figure Skating, Judo, and Wrestling. With temperatures still hovering around the -33C mark, the Cross Country and Para Nordic Ski races originally scheduled for Thursday were postponed, but the eager skiers still made it to the Douglas Park trails to practice and learn the ropes of the looping, spectator-friendly race course ahead of the warmer weather on Friday and Saturday.
The last day of the Culture Festival, presented by CGI, took place Thursday evening at the University of Regina Education Auditorium. Games participants, volunteers, and the public were treated to performances by the Qu'Appelle Valley Dance Group, the Grey Buffalo Singers, the Lone Creek Buffalo Nation Dance Troupe, and more.
SPORT SPOTLIGHT:
Figure Skating: In the Pre-Novice Female Free Skate, Saskatoon's Azizza Kowalchuk took home gold. Parkland Valley's Aya Burrell and Addison Tribe earned silver and bronze. South West's Rowan Gray earned gold in the male Pre-Novice Free Skate event. In the Novice Female Free Skate, Prairie Central's Bella Russell, South East's Rory Greenbank, and Lakeland's Morgan Burns went 1-3. Prairie Central also came out on top in the Novice Male Free Skate, with Shane Benko skating to gold.

Futsal: The inaugural game saw Team Saskatoon play Team Parkland Valley on Court 1 at the brand-new Avana Centre at the REAL District. Yorkton's Ololade Olaleye, competing for Team Prairie Central, made history by scoring the first-ever Futsal goal at the Saskatchewan Winter Games. Olaleye displayed excellent skills and sportsmanship throughout the game, and his performance was a testament to the developing sport in the province. In the debut female Futsal match, Parkland Valley fell to Regina 7-4. Futsal competition will continue at the Avana Centre through Saturday, February 25.

Judo: All weight classes competed in the Judo Individual competition on Thursday at the City of Regina Fieldhouse, with the stands full of family supporters. Tomorrow the Ne Waza competition will get underway, with the Kata event taking place Saturday.

Target Shooting: Thursday's Target Shooting competition drew a big crowd for the evening's Super Final Air Rifle events. Team Lakeland's Cole Ratti described the event: "It's an elimination type of game -- whoever shoots the lowest, you get a yellow card. If you shoot the lowest twice and get two yellow cards, you're out. The fans bring bells to distract you and it gets really loud!" Find the video here.

Wrestling: The Wrestling Team Duals round robin got underway ahead of Friday's Team Finals. All teams represented well. In Pool A, Team Saskatoon sits on top with three wins and zero losses, while Regina earned the same stats in Pool B. The individual medals will be awarded on Saturday.

Para Nordic and Cross Country Skiing: While the frigid temperatures were too cold for competition, the Para Nordic and Cross Country skiers were still able to get practice in at the Douglas Park cross-country ski trails. On Thursday after practice, Team North skiers reported that the hilly, looping course is set to ensure that the races will be action-packed and spectator-friendly.
COMING UP NEXT:
The Day 5 Sport Schedule will include competition in Futsal, Target Shooting, Judo, Wrestling, Para Nordic and Cross Country Skiing, and Figure Skating.

Para Nordic and Cross Country Skiing will have their first competition (1.5km Mass Start- Female) tomorrow at 2:05 PM at the Douglas Park Trails.

All Saskatchewan Winter Games accreditation pass holders, including volunteers, athletes, coaches, mission staff, media and VIPs are invited to attend the University of Regina Cougars Women's Basketball CanWest semifinal game against the Calgary Dinos on Friday Night at 7:00 PM.
QUOTES OF THE DAY:
"I think people can see the impact they're making when they're volunteering. I also see the family involvement here -- I see lots of families and grandparents coming to watch their children and I love that so much. I see parents taking vacation from work to support their kids in their sports and activities." -- Oluwaseun Oshungbure, Volunteer.

"Our practice today [in cross country ski] was super cool. I liked the 3km. It was interesting because you could see people on different parts of the course. You can't do that on the trails we have back at home in La Ronge." -- Alina Mack, Team North Cross Country Ski Athlete.

"As a coach, I have participated in a few Sask Games previously. Today went really well, the kids had their team event today and they were paired up with people they haven't shot with before. Our District is quite large, so it was great seeing everyone coming together and making new friends!" -- Lowell Strauss, Team Prairie Central Target Shooting Coach.

"Take in the whole experience -- this is your time to shine." -- Anne Weisgerber, Team South West Chef de Mission on what advice she would give to the athletes.
CONTENT: Photos and video highlights of the Games are available for download at this link. Photographers' names are listed on each subfolder for photographer credit. Thank you to our volunteer photographers for helping us to capture all the moments and memories!

LIVESTREAM: The 2023 Saskatchewan Winter Games is proud to partner with HomeTeam Live to stream every sport at the Games at app.hometeamlive.com. The stream is free and easy to access, with instructions here.

WEBSITE: saskgames.ca

FOLLOW:
###
About the Saskatchewan Games: First established in 1972, the purpose of the Saskatchewan Games is to provide an opportunity for the province's developing athletes, coaches and officials to participate in an exciting multi-sport event in preparation for a higher level of competition. Countless Saskatchewan Games alumni have advanced to competition at the national level and beyond, with Olympians such as Sandra Schmirler, Colleen Sostorics, Emily Clarke, and Lucas Makowsky counting the Saskatchewan Winter Games as a key step in their journey to the highest levels of sport. The Saskatchewan Games also leave behind valuable legacies that benefit each host community for years to come. To learn more, visit http://www.saskgames.ca.
MEDIA CONTACT:
Ashley Dennison, Communications Lead
Saskatchewan Games Council
E: adennison@saskgames.ca
C: (306) 570-2525