After 38 Years in Sport and Recreation, Executive Director Mark Bracken Announces His Retirement
Oct 4, 2023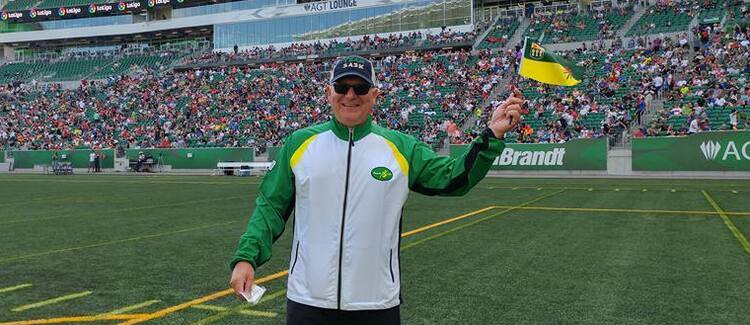 After an impactful 38 years dedicated to advancing sport and recreation in this province, the Saskatchewan Games Council sends a heartfelt congratulations to Executive Director Mark Bracken on his forthcoming retirement.
Bracken, who has served as Executive Director of the Saskatchewan Games Council since 2014, will officially retire on March 31, 2024.
"I have many fond memories of my years working in sport. The good people I met and was fortunate to work with, the many places across Canada I was able to travel, and having the opportunity to contribute in a variety of ways to provide sport opportunities to young athletes in Saskatchewan is something I will cherish forever. If I had to do it all over again, I can honestly say I still would have chosen sport administration as my career. I am so privileged with all the exciting and rewarding opportunities that this career has afforded me," says Bracken.
Bracken has been involved in the Saskatchewan Games program since the very beginning of his career. As Zone 5 Sport Coordinator in Humboldt, he helped prepare teams for the 1988 Saskatchewan Summer Games in Melfort, the 1990 Saskatchewan Winter Games in Melville, and the 1992 Saskatchewan Summer Games in Prince Albert.
In 1992, he and his young family moved to Regina as he began his role as Recreation Consultant with the Saskatchewan Parks and Recreation Association. In 1998, he joined Sask Sport, where he remained for 17 years and contributed in numerous capacities, including sport funding, sport legacy funding, KidSport, sponsorship, and coaching development. In 2008, he was named Executive Director of the Coaches Association of Saskatchewan.
Bracken has also been an avid volunteer within the sport community, coaching community baseball and hockey for over a decade and serving on the Pacers Baseball and Regina Red Sox Board of Directors for six years. He also volunteered his time with several major events, including the World Children's Baseball Fair in Regina in 2000 and the 1990 World Junior Hockey Championships in Saskatoon.
Throughout his extensive career, multi-sport games have remained Bracken's passion. His first-ever Canada Games experience was in 1999, where he volunteered as mission staff — and became hooked. In all, he has attended 12 Canada Games, serving as Chef de Mission for Team Saskatchewan four times and Assistant Chef de Mission at an additional three Games. In addition, he has taken part in four editions of the Western Canada Summer Games: one as Chef de Mission, two as Assistant Chef de Mission, and one as mission staff. He has contributed to 10 Saskatchewan Games since 1988 in various capacities, and has attended several editions of the Tony Cote First Nations Games and the North American Indigenous Games. Through his involvement in multi-sport games, he has travelled across the country and formed decades-long friendships with Games colleagues from coast to coast to coast.
"Seeing our young Saskatchewan athletes parade into the opening ceremonies and then lay it all on the line to compete at the Saskatchewan Games, Canada Games, NAIG, or Tony Cote First Nations Games is something special. I want to thank everyone who in some way has supported me throughout my career. It has been a phenomenal ride, but now it's time to enjoy the next chapter of my life."
Mark and his wife Joanne, CEO of the Alzheimer Society of Saskatchewan, look forward to entering retirement together, travelling, and enjoying quality time with their family, which includes sons Nolan and Quinton, daughter-in-law Jenna, and granddaughters Riley and Camden.
Mark, we congratulate you on your phenomenal career, thank you for your leadership, and wish you all the best in your well-deserved retirement!
The Saskatchewan Games Council will release a job posting for the Executive Director position in mid-October, with an expected start date of March 2024.
With gratitude,
The staff and board of the Saskatchewan Games Council