Sport Spotlight: Noah Johnson - Table Tennis
Jan 31, 2018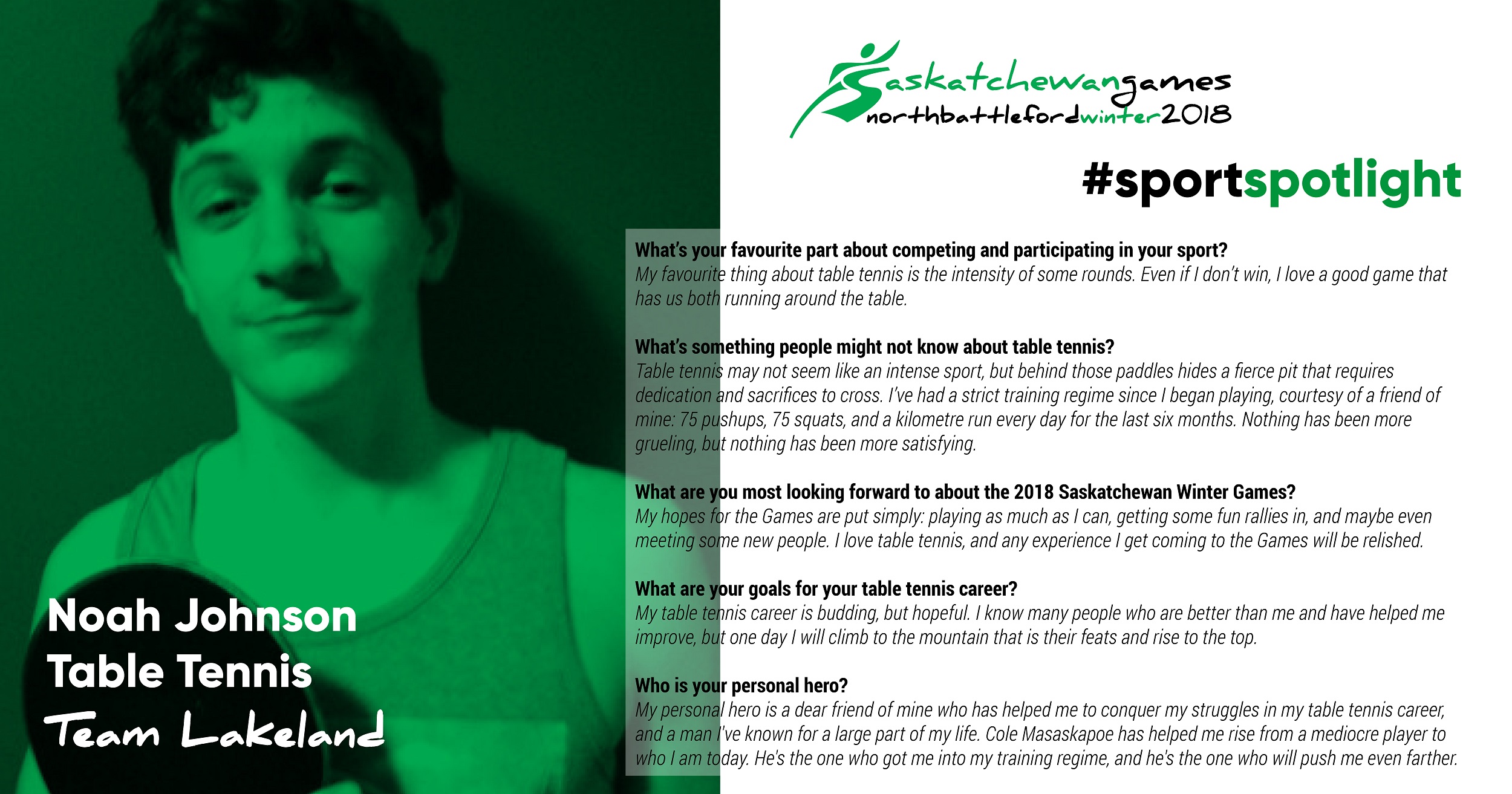 We're 18 days away from the 2018 Saskatchewan Winter Games in North Battleford, and today's #SportSpotlight features Noah Johnson from Team Lakeland, who tells us that there's more to Table Tennis than meets the eye!
---
Name: Noah Johnson
Sport: Table Tennis
Years competing in table tennis: Six months
What's your favourite part about competing and participating in your sport?
My favourite thing about table tennis is the intensity of some rounds. Even if I don't win, I love a good game that has us both running around the table.
What's something people might not know about table tennis?
Table tennis may not seem like an intense sport, but behind those paddles hides a fierce pit that requires dedication and sacrifices to cross. I've had a strict training regime since I began playing, courtesy of a friend of mine: 75 pushups, 75 squats, and a kilometre run every day for the last six months. Nothing has been more grueling, but nothing has been more satisfying.
Is this your first time at a Saskatchewan Games?
This is my first time coming to the Sask Winter Games for anything. Last time the Winter Games were on, I had minimal table tennis experience -- what I did was for fun, rather than to improve. Now, however, I'm dedicated and on a mission to learn and grow as a player.
What are you most looking forward to about the 2018 Saskatchewan Winter Games?
My hopes for the Games are put simply: playing as much as I can, getting some fun rallies in, and maybe even meeting some new people. I love table tennis, and any experience I get coming to the Games will be relished.
What are your goals for your table tennis career?
My table tennis career is budding, but hopeful. I know many people who are better than me and have helped me improve, but one day I will climb to the mountain that is their feats and rise to the top.
Who is your personal hero?
My personal hero is a dear friend of mine who has helped me to conquer my struggles in my table tennis career, and a man I've known for a large part of my life. Cole Masaskapoe has helped me rise from a mediocre player to who I am today. He's the one who got me into my training regime, and he's the one who will push me even farther.
---