Local wealth management team commits $25,000 to Winter Games
Nov 30, 2017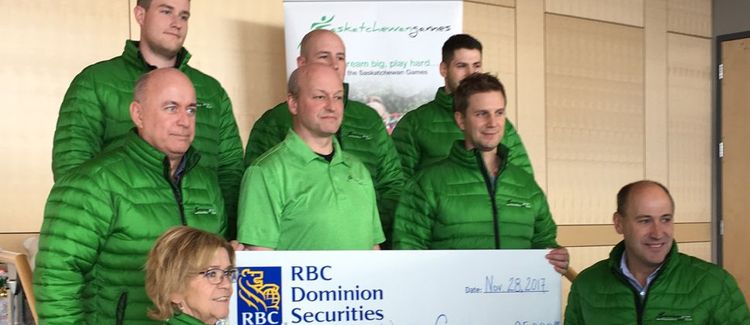 Photo credit: Betty Speed
The sponsorship donations for the Saskatchewan Winter Games keep rolling in as Rongve Gabruch Schell Weikle Wealth Management has committed $25,000 and will also be the official sponsor of the weightlifting competition next February.
Rob Rongve and David Schell of the management group are the co-chairs of the Winter Games committee, while Heath Gaburch will be volunteering with the friends of the games committee and Rena Weikle will be an ambassador.
"We felt it was important to us to have some skin in the game when we are asking others to contribute," Rongve said in a press release. "We very much believe in this event and what it will do for the community and we are proud to be a part of it. We are so excited for February."
Brett Payne, the friends of the games co-chair, was also on hand for the cheque presentation on Tuesday at the Dekker Centre.
He acknowledged all the hard work the wealth management team has put in and will continue to put in leading up to the event.
"This is a team that leads by example," Payne said. "They were one of the first major sponsors that signed on and it helped our fundraising campaign immensely to be able to tell people in the early stages that we had sponsors committed at that level so early on."
The weightlifting events, which will be sponsored by Rongve Gabruch Schell Weikle Wealth Management, will be held at the Dekker Centre from Feb. 18-21.
The Winter Games in the Battlefords begin on Feb. 18 and run until Feb. 24, 2018. It will feature roughly 1,800 athletes from across the provinec in 17 different sports.
Copyright 2017 battlefordsNOW. All Rights Reserved - see full article here