Lloydminster named as host of the 2020 Saskatchewan Summer Games
Nov 27, 2017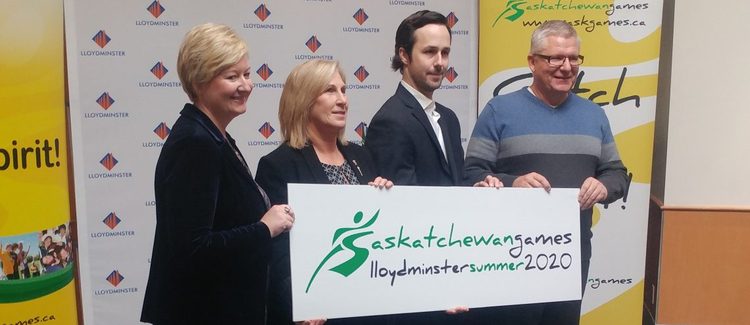 PHOTO CREDIT: Lloydminster Now
Lloydminster Selected to Host the 2020 Saskatchewan Summer Games
LLOYDMINSTER, SK (November 24th, 2017): It was officially announced today by Mark Bracken, Saskatchewan Games Council Executive Director, that the City of Lloydminster has been selected to act as host community for the 2020 Saskatchewan Summer Games.

"The Saskatchewan Games Council views Lloydminster as an ideal community to host the Saskatchewan Summer Games," Bracken said. "With the city's first-class venues, the enthusiasm and spirit of volunteerism found in the community, and its demonstrated experience with hosting numerous high-level sporting events, we are confident that Lloydminster will create an excellent and memorable multi-sport games experience for all involved."

As the host of the 2020 Saskatchewan Summer Games, the community of Lloydminster is expected to gain a legacy of new or upgraded facilities, sporting equipment, experienced officials, and a core group of volunteers, as well as see a significant economic and tourism benefit. The most recent Saskatchewan Summer Games, held in Estevan in 2016, generated an economic impact of nearly $8 million dollars due to visitor spending and capital development.
"The City of Lloydminster is honoured to be selected as host for the 2020 Saskatchewan Summer Games and we look forward to an opportunity to showcase our community on the provincial stage," said Mayor Gerald Aalbers. "We have excellent facilities here in Lloydminster, but what really sets us apart is our warmth, hospitality and extraordinary spirit of volunteerism. We look forward to welcoming Saskatchewan's best young athletes in 2020."

This will be the second time Lloydminster has hosted the Saskatchewan Games, following its first appointment in 2008. The success of the 2008 Saskatchewan Summer Games was recognized by Tourism Saskatchewan, who provided the 2008 Host Society with an award for excellence in promotional/marketing campaigns. As "The Border City," Lloydminster has also twice played host to the Alberta Games: the Winter Games in 1982, and the Summer Games in 1997.
The Games, tentatively scheduled for July or August 2020, will involve over 2,000 athletes, coaches and managers in 14 sports representing the nine sport and recreation districts within the province. Lloydminster will require up to 1500 volunteers to host these multi-sport games. Sports included on the sport calendar for the 2020 Saskatchewan Games include: archery, athletics, baseball, basketball, canoe kayak, golf, rugby 7s (female), soccer, softball (female), tennis, triathlon, swimming, Special Olympics swimming, and volleyball.

Not only do the Saskatchewan Games provide developing athletes with the thrill and excitement of a multi-sport games, they also work to encourage young athletes to pursue more competitive levels of sport like the Canada Games and beyond. The athletes are also encouraged by those who have gone before them. "Accomplished athletes and Saskatchewan Games alumni such as Olympians Lucas Makowsky and Marsha Hudey inspire these kids to dream big, and to strive for excellence in sport and in life," said Lorne Lasuita, Provincial Games Consultant for the Saskatchewan Games Council. Several of Team Canada's hopefuls for the 2018 Olympic Winter Games in PyeongChang, South Korea, are former Saskatchewan Games competitors, including Emily Clark (hockey) and Kali Christ (speed skating).

The purpose of the Saskatchewan Games is to provide an opportunity for the province's developing athletes, coaches and officials to participate in a multi-sport event in preparation for the higher level of competition. To learn more, visit saskgames.ca.

###
For media inquiries, please contact:
Karen Lawson
Games Services & Communications Lead
Saskatchewan Games Council
klawson@saskgames.ca
Office: 306 780-9387
Mobile: 306 529-3120