Canada Games Celebrate 50th Anniversary with the Canada Games Activity Challenge
Jan 25, 2017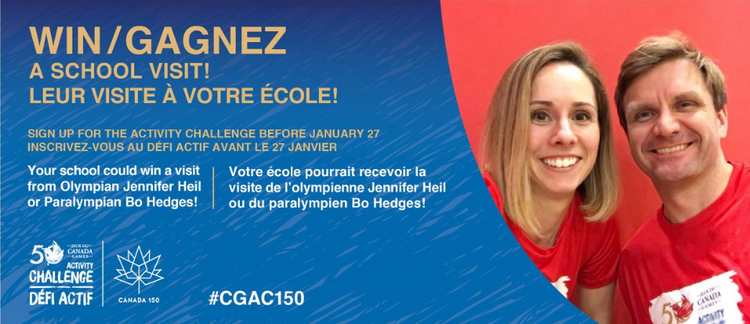 February 13th marks the official start of the Canada Games Activity Challenge, an interactive program which aims to support children and teachers in Canadian classrooms to build daily active healthy habits. The initiative, created to engage children aged 5-12 has been marked as one of the 41 Canada 150 Signature Projects celebrating Canada's 150th anniversary. It also commemorates the 50th anniversary of the Canada Games.
Participants in the Canada Games Activity Challenge will stick to a daily activity program, based on the principles of physical literacy. These fun activities and interactive challenges are developed to build healthy, habit-forming behaviours in students and will empower teachers with a database of age-appropriate and skill-specific activities, linked to Canada's Long-Term Athlete Development (LTAD) model. Students will also participate individually at home, challenging themselves to accomplish personal bests. These efforts will be supported by a web-based application to help track participation and motivate—using the principles of gamification.
Participants will take part in three 30-day activity modules. Schools with 100% participation in all three modules will receive national recognition for their participation and efforts by Prime Minister Justin Trudeau. Additionally, all schools that sign up before January 27th are eligible for the chance to win a school visit from two notable Canadian athletes: Jennifer Heil, freestyle skiier at the Turin 2006 and Vancouver 2010 Olympic Winter Games, and Bo Hedges, wheelchair basketball at the 2008 Beijing, 2012 London, and 2016 Rio Paralympic Games.
For more information about the Canada Games Activity Challenge, please contact Alyson Gourley-Cramer at agourley-cramer@canadagames2.ca.