Volunteer Week: A Memorable Experience for Lisa Jardine, Co-Chair of Athlete Experience
Apr 21, 2023
Lisa Jardine served as Co-Chair of the Athlete Experience in the Entertainment Division during the Saskatchewan Winter Games, where she had an essential role to play. Her motivation to volunteer came from her belief that volunteering is a great way to give back to the community and have a positive impact on people's lives.
Lisa first heard about the opportunity to volunteer for the 2023 Saskatchewan Winter Games through a personal connection with Kerri Thurman, the second Co-Chair of the Athlete Experience Committee. "I reached out to Kerri and suggested we volunteer together! Kerri happily agreed," said Lisa. The two of them then began planning for the Games, which involved two years of preparation.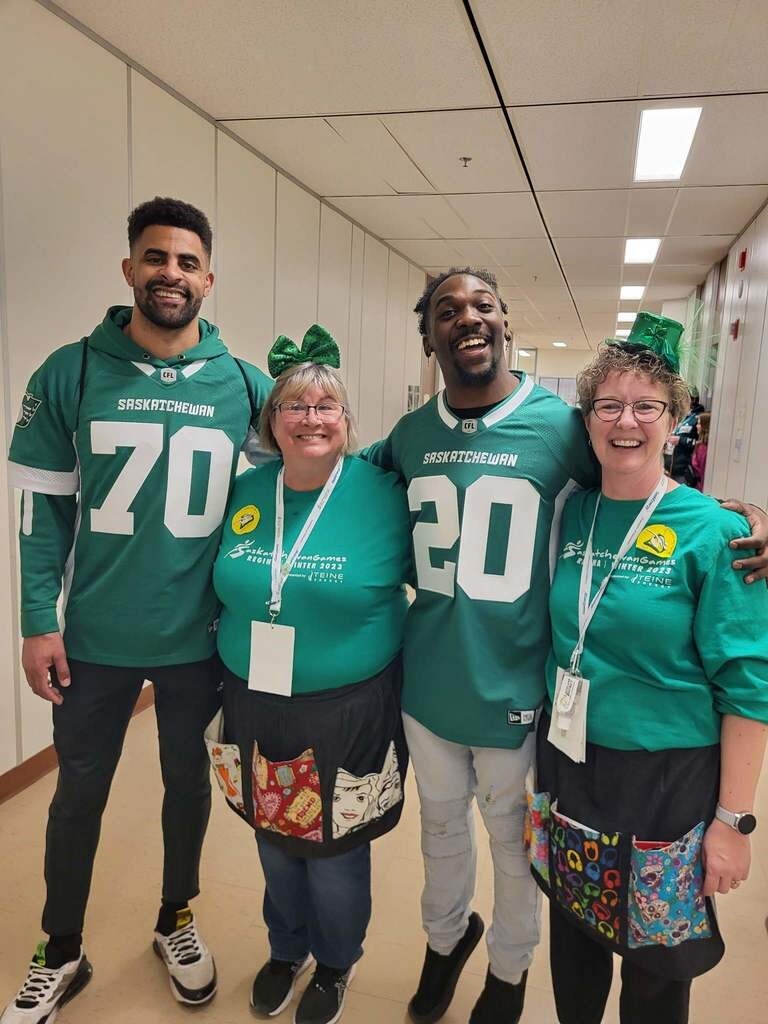 Kaare Vedvik (Saskatchewan Roughrider), Lisa, Frankie Hickson (Saskatchewan Roughrider) and Kerri Thurman.
Lisa's primary responsibility was to plan and execute the Athlete Entertainment, including setting up the schedule for athlete events and monitoring the athletes during their downtime when they were not competing.
Throughout the Games, Lisa's most memorable experience was being able to help the athletes enjoy their time at the Games and having the ability to watch some of participants compete at the University. Her years of volunteer experience were not in vain, as she was able to meet new people, gain new skills, and become part of a community.
One of Lisa's most exciting successes as a volunteer was reading a Time Capsule card from an athlete who thanked Kerri and Lisa, expressing their appreciation for all their hard work and how much it mattered to them. Lisa felt an incredible sense of satisfaction knowing that her efforts had made a positive impact on someone's experience at the Games.
Volunteering at the Saskatchewan Games was an incredibly rewarding experience for Lisa Jardine, one that she will always cherish.