Stingray Group Joins List of Growing Sponsors for 2020 Summer Games
Jan 15, 2020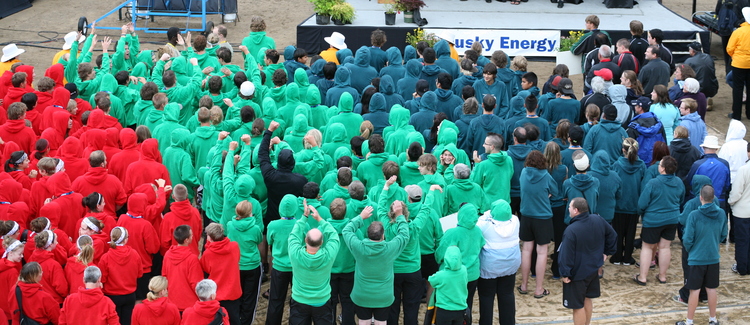 LLOYDMINSTER, SK (January 15, 2020) – The 2020 Saskatchewan Summer Games (2020 SSG) Host Society is pleased to announce that Stingray Group in Lloydminster, Sask., has signed on as the Closing Ceremony sponsor for the upcoming Games.
In addition to the competition and camaraderie, the Closing Ceremony is recognized as one of the most exciting non-sport events of the Games. After a week of competition, the Closing Ceremony features athletes and coaches from all districts in celebration of their accomplishments and spotlights the highly anticipated awards presentations.
"Stingray Media is extremely excited to be participating as the closing ceremony sponsor for the 2020 Saskatchewan Summer Games. This is an amazing event that will showcase outstanding athletic talent, sportsmanship, and community support," said Chad Tabish, General Manager, Stingray Lloydminster and ARG East Region. "We're honoured to be a part of the festivities and wish the participates success during the Games."
The Closing Ceremony, sponsored by Stingray with a commitment of $20,000, is scheduled for August 4 at the Centennial Civic Centre at 4 p.m.
2020 SSG Games Chair, Kevin Kusch says, "Stingray's contribution to the Games is one of the many ways they show their support toward junior athletics and the promotion of living an active and healthy lifestyle in both Lloydminster and the province of Saskatchewan at large.
"We're excited to have them onboard as a supporter and community champion."
The 2020 Saskatchewan Summer Games in Lloydminster begin July 26 and run until Aug. 1, 2020. The Games showcase approximately 2,000 athletes from across the province in 14 different sports.
– 30 –
For media inquiries, please contact:
Eric Healey
Chair, Media Relations
2020 Saskatchewan Summer Games Host Society
Phone: 306.307.8483
Email: ehealey@lloydminster.ca
Chad Tabish
General Manager
Stingray Lloydminster and ARG East Region
Phone: 780.875.3321
Email: ctabish@stingray.com
For sponsorship inquiries, please contact:
Guy Dudding
Chair, Friends of the Games
2020 Saskatchewan Summer Games Host Society
Phone: 780.872.035
Email: gdudding@monexgroup.com

Nicole Clow
Games Manager
2020 Saskatchewan Summer Games Host Society
Phone: 306.482.7057
Email: nclow@saskgames.ca