Sport Spotlight: Katelynne Hoffman - Weightlifting
Jan 30, 2018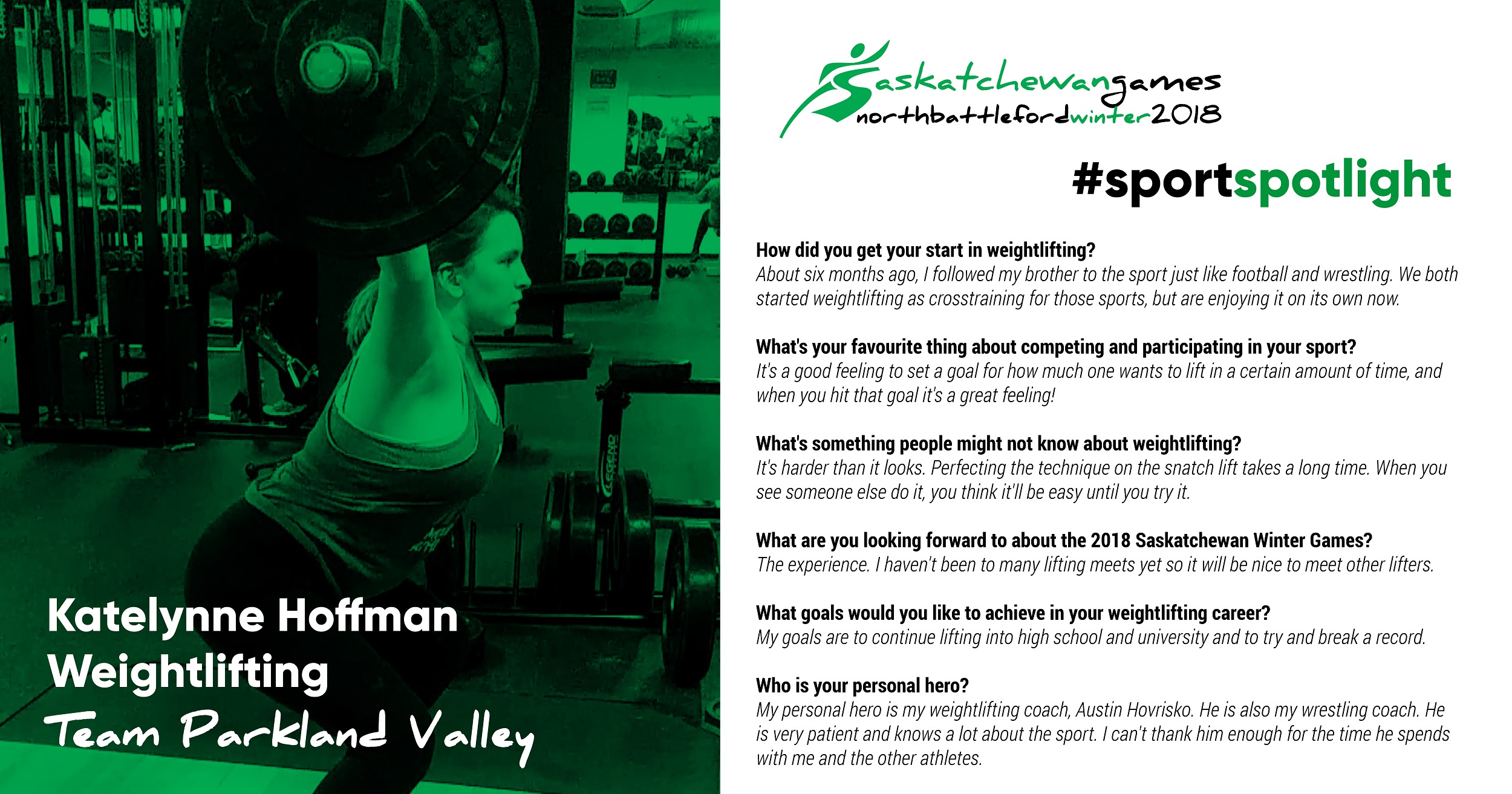 We're just 19 days away from the start of the 2018 Saskatchewan Winter Games in North Battleford. Take a look at today's #SportSpotlight, which highlights Weightlifting and features multi-sport athlete Katelynne Hoffman from Team Parkland Valley!
---
Name: Katelynne Hoffman
Sport: Weightlifting
Years competing in weightlifting: Almost half a year
How did you get your start in weightlifting?
I followed my brother to the sport just like football and wrestling. We both started weightlifting as crosstraining for those sports, but are enjoying it on its own now. Our wrestling coach also got us started in the sport.
What's your favourite thing about competing and participating in your sport?
It's a good feeling to set a goal for how much one wants to lift in a certain amount of time, and when you hit that goal it's a great feeling!
What's something people might not know about weightlifting?
It's harder than it looks. Perfecting the technique on the snatch lift takes a long time. When you see someone else do it, you think it'll be easy until you try it.
What are you looking forward to about the 2018 Saskatchewan Winter Games?
The experience. I haven't been to many lifting meets yet so it will be nice to meet other lifters.
Is this your first time at a Saskatchewan Games?
Yes, this is my first Saskatchewan Games.
What goals would you like to achieve in your weightlifting career?
My goals are to continue lifting into high school and university and to try and break a record.
Who is your personal hero?
My personal hero is my weightlifting coach, Austin Hovrisko. He is also my wrestling coach. He is very patient and knows a lot about the sport. I can't thank him enough for the time he spends with me and the other athletes.
---
Make sure you catch Weightlifting from February 18th - 21st at the Dekker Centre!