Sport Spotlight: Griffin Harrington - Biathlon
Feb 16, 2018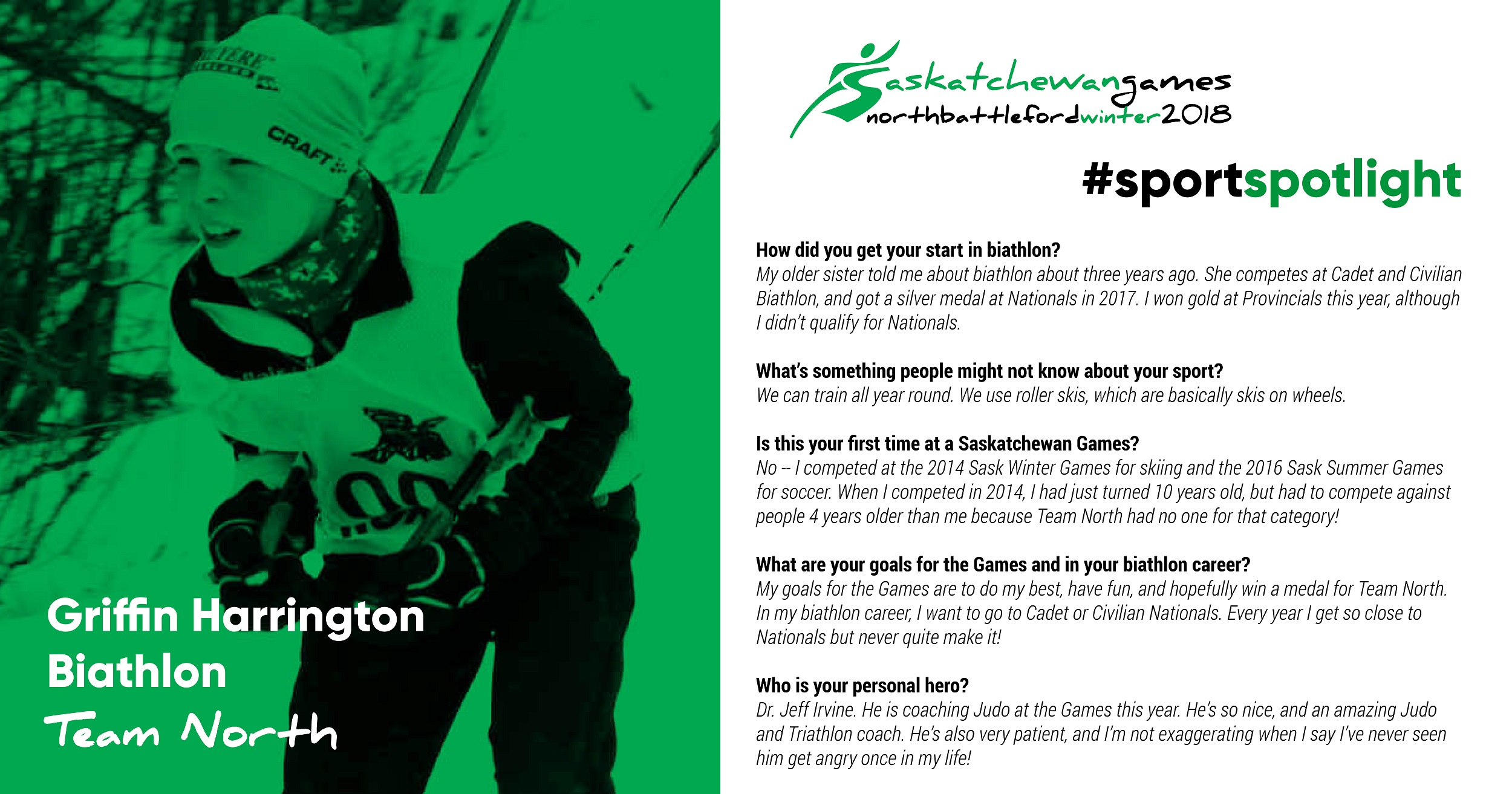 Wow -- the 2018 Saskatchewan Winter Games in North Battleford are now just two days away! Today's #SportSpotlight features Biathlon, with two-time Sask Games alum Griffin Harrington. Learn more about this challenging sport that combines cross-country skiing and rifle shooting!
---
Name: Griffin Harrington
Sport: Biathlon
Years competing: About three years. I mostly do Cadet biathlon but I have competed a few times in civilian biathlon, too.
How did you get your start in the sport?
My older sister told me about it. She competes at Cadet biathlon and civial biathlon. She got a silver medal at Nationals in 2017. I won gold at Provincials this year, although I didn't qualify for Nationals.
What's something people might not know about biathlon?
We can train all year round. Instead of skiing and shooting, we use roller skis, which are basically skis on wheels.
Is this your first time at a Saskatchewan Games?
No, I competed in the 2014 Saskatchewan Winter Games for skiing and the 2016 Saskatchewan Summer Games for soccer. When I competed in 2014, I had just turned 10 years old, but had to compete against people four years older than me because Team North had no one for that category!
What are you most looking forward to about the 2018 Saskatchewan Winter Games?
I am most looking forward to seeing my friends from the previous Games and representing Team North.
What are your goals for the Games?
My goals for the Games are to do my best, have fun, and hopefully win a medal for Team North.
What are your goals for your biathlon career?
In my biathlon career, I want to go to Cadet or Civilian Nationals. Every year I get so close to Nationals, but never quite make it!
Who is your personal hero?
Dr. Jeff Irvine. He is coaching Judo at the Games this year. He is so nice and an amazing Judo and Triathlon coach. He is also very patient, and I am not even exaggerating when I say that I have never seen him get angry once in my life!
---