One Year to the Games takes over Family Day in N.B.
Feb 22, 2017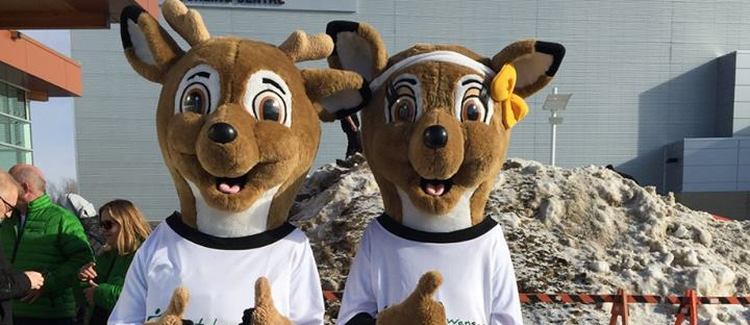 The 2018 Saskatchewan Winter Games marketing team only planned for 400 people to show up for the "One Year to the Games" event, but just two hours in organizers were scrambling to the store to buy more burgers.
The first event to spread awareness for the 2018 Saskatchewan Winter Games was held on Family Day at the Cuplex in North Battleford. The games begin Feb. 2018 and will be hosted by the city for the first time.
The event featured demonstrations of the sports highlighting the games such as hockey, basketball, and gymnastics.
The snow boarding group set up a slope to demonstrate snowboard cross outside of the Northland Power Curling Centre, as this will be the first time the sport will be played in the games.
Nicole Clow is the manager of the games and was thrilled at the turnout.
"No we were not expecting quite this crowd, which is great," said Clow. "I mean you never know what kind of crowd to expect when you take a chance on Family Day. It's so wonderful to see the community come out and it gives me sort of a tingly feeling in preparation for next year. We know the community will support the games and is interested in what we do."
The event also marked the official unveiling of the games mascots — a brother and sister duo — Ravi and Tansi. According to Clow, the two deer have been around since the 2005 Canada Games and the Saskatchewan Games have adopted them. Ravi and Tansi joined other mascots, playing sports with kids and taking pictures in the Nationwest Field House.
"This was certainly the big kick off and if we can do something like this again then we certainly will because it has been very well received," Clow said. "We are not totally sure what we are going to do over the next year, but there will be other things to let people know they can volunteer for the games and let them know how they can get involved."
The 2018 Saskatchewan Winter Games will require between 1,200 to 1,500 volunteers, but according to Clow they won't really be needed for a few more months until much closer to games themselves.
© Copyright 2016 Battlefords Now - See the article and videos from the day here