News
Nominations Open for the Energize the Games Torch Relay presented by SaskEnergy
Apr 28, 2016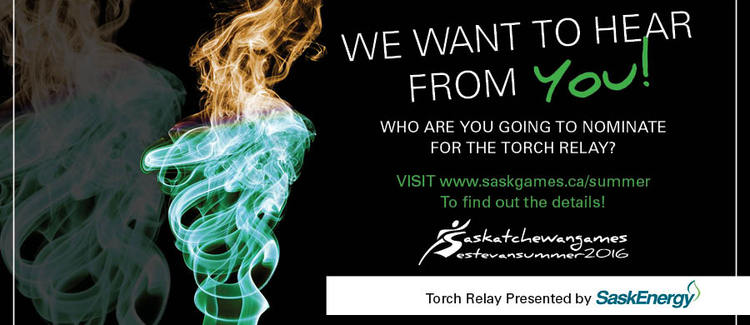 Be part of the energy of the 2016 Saskatchewan Summer Games by nominating a torchbearer for the Torch Relay presented by SaskEnergy on July 24th.
The Torch Relay is a ceremonial event where the flame, which will burn in the Games cauldron (provided by SaskEnergy) throughout the duration of the 2016 Saskatchewan Summer Games, is carried through the city by various torch bearers. The Torch Relay will follow a route that travels throughout the city so that spectators can view the flame. The relay will end with the Games cauldron being lit at opening ceremonies when the 2016 Saskatchewan Summer Games are officially opened!
"The Torch Relay is a way for the host community to get involved. The goal is to increase public awareness and participation in the Games. The lighting of the Games torch is very symbolic in that it officially signifies the opening of the multi-sport games, uniting all Districts in the province," said Terina Shaw, committee chair of the Estevan 2016 Torch Relay.
The Torch relay has been presented by SaskEnergy as part of their commitment to the games since 1998. Not only has SaskEnergy has been the official sponsor of the Torch Relay they have been the Champion of Volunteers for ten years and play a key role in the relays execution. How a host community selects their Torch Bearers is up to them as part of the planning process.
"We would like the residents of Estevan and surrounding communities to tell us who should be a torch bearer and are inviting the public to nominate deserving youth between the ages of six and 18 years old from our area. Selected Torch Bearers will be expected to carry the torch approximately 400 to 500 meters at their own pace. You can nominate a youth for a variety of reasons, not just for athletic accomplishments, but for contributions to our community as well," added Shaw.
"The torch and flame are not just symbols of the Summer Games themselves, but symbols of the enduring qualities of the people of Saskatchewan. SaskEnergy is proud to be the presenting sponsor of this exciting part of the Games," said Shannon Doka, SaskEnergy's Community Involvement Leader.
If you think you know a deserving youth or want more information on how to nominate someone visit, www.saskgames.ca/summer and follow the links to the Torch Relay. The deadline for nominations to be received is May 16th, 2016 at 5:00pm CST.